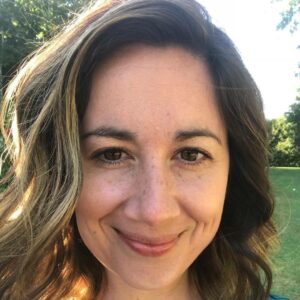 About Alicia
Alicia Preston is a Human Developer who specializes in Mindful Self-Regulation. She has a passion for supporting humans of all ages with their mental health and well-being. She guides humans to find their calm amid this crazy busy, over-scheduled tech-dependent world that is today. She inspires people of all ages, from toddlers to teens to adults, to regulate energy and tension levels through mindfulness, self-regulation and yoga tools. Alicia has become a highly sought-after guide; facilitating workshops with educators, parents, IT professionals and others who work in high-stress environments. Alicia's engaging and encouraging teaching style will have you feeling excited and hopeful about what Mindful Self-Regulation can do to transform your well-being and professional practice.
Alicia is a lifelong learner but didn't set out to be a Mindful Self-Regulation and Yoga Guide. Instead, she went to University and studied sociology, psychology and women's studies. Upon completion of University, she followed up with diplomas in the Developmental Services Worker Field and Autism and Behaviour Sciences which lead her to a 13-year career working as an Educational Assistant and Instructor Therapist in a K-12 public school setting.
Her turning point came as she noticed her students, her children and her own need to find tools and channels to help regulate energy, stress and anxiety. After experiencing chronic pain and her mental health challenges, she turned to Mindful Self-Compassion which led her on an inward journey of self-healing. This provided Alicia with the foundation and skill to start a new path where she founded Mindful Roots. Since then, Alicia has completed training in Mindfulness-Based Stress Reduction and the Mindful Kids Curriculum. Alicia is a Certified Yoga Teacher, with a specialization in Kid's Yoga. She is a Self-Regulation Champion and Facilitator and is currently studying under Danielle Laporte's Love-Centred Facilitator Training.
Alicia resides in rural Ontario, she is an avid traveller and spends her time with her family in nature.