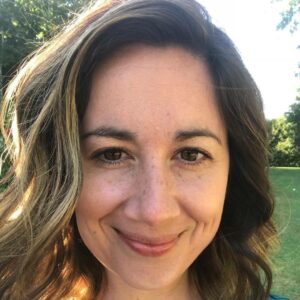 About
Alicia is a skilled educator and speaker in mindfulness-based stress reduction, nervous system foundations, yoga, human design and self-regulation. She is dedicated to helping adults, youth, and children manage stress and anxiety through mindfulness practices. Her highly sought-after workshops are designed for educators, parents, professionals and others in high-stress environments. With her engaging and empowering teaching style, Alicia leaves participants excited and motivated to make their nervous system an ally and improve their well-being and professional practice.
Alicia has always been a lifelong learner, but her journey to becoming a Nervous System & Mindfulness Based Stress Reduction Educator was not planned. With diplomas in Developmental Services Work and Autism and Behaviour Science, she began her career as an Educational Assistant in a K-12 public school setting and a private Instructor Therapist/Autism Consultant working with families. However, her passion for helping others regulate their energy, stress and anxiety was sparked by her observations of her students, her children, and her struggles with chronic pain, mental health challenges and educator burnout.
Determined to find solutions, Alicia turned to Mindful Self-Compassion, which led her on a personal journey of self-healing. This experience gave her the foundation and skills to start a new path, and she founded Mindful Roots. Since then, she has completed training in Mindfulness-Based Stress Reduction, Nervous System Foundations, Breathwork, and Heart-Centred Facilitating. She is now a Certified Yoga Teacher specializing in Children's Yoga and Mindfulness.
Alicia currently resides in rural Ontario, where she enjoys travelling and spending time with her family in nature.