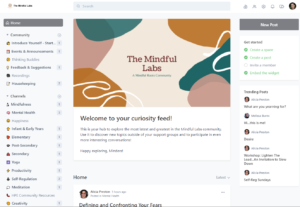 Build a lab for your mental health and well-being with mindful self-regulation, neuroscience and heart centred – based content and conversations.
Join a community of mindful humans, sharing the intellectual love of lifelong learning within a safe space, free of judgement.
Everyone should have access to a community where they can learn, grow, heal and ask questions.
Let's inspire and support each other. Together, we will plant the seeds of intention supporting mental health and well-being for ourselves and others. When we nurture one another with compassion, we can create a just society for the present and future generations to come.