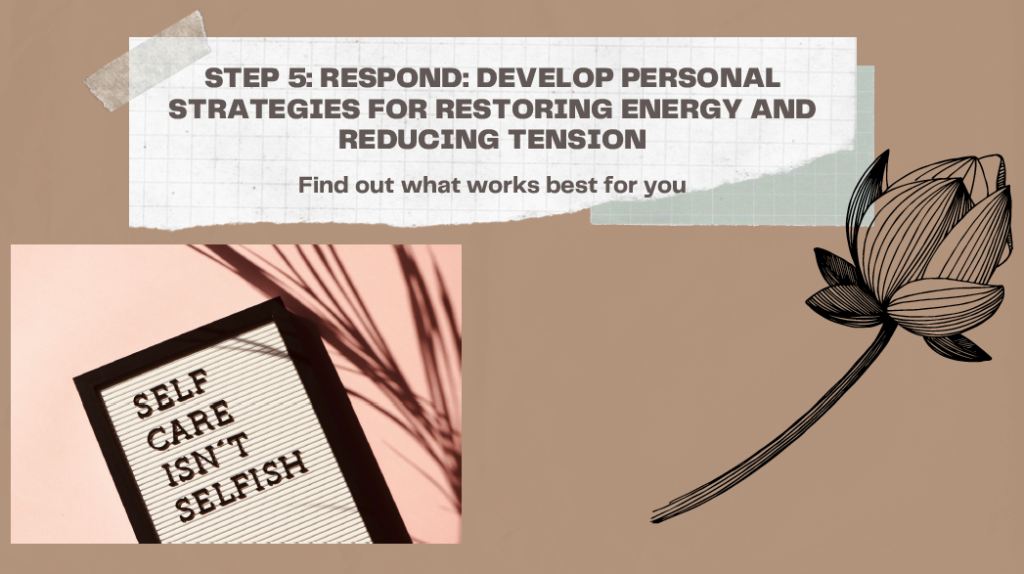 What is Self-Reg?
Self-Regulation is understanding the stressors in our lives and learning how to manage our energy and tension. Shanker Self-Regulation is a five-step, non-linear framework that has transformed my life. This is not a program, but rather a framework that will shift your perspective on behaviours and how we manage stress and energy. One can't truly teach and share with others until they are practicing it themselves.
Today, I'd like to share how I practice Step 5 – Respond, and how this step provides resilience for myself and my family. You can also integrate this step with your students and colleagues!
Respond:
Respond is about being proactive in strategies of restoration
Respond focuses on energy and tension and their awareness to adjust these states regularly.
Respond focuses on strategies that aim to make us more resilient to stress as it comes.
What can I do today to maintain my own ecosystem today, so I can better lend my calm during high-stress times and days throughout our week?
Sundays are typically a day of rest around our home. We take Sunday afternoons very slowly, we try and get our household tasks done on Saturday so we can play, be curious, and just follow the flow of what we need as a family which usually means a lot of outside time.
I also use this day to be PROACTIVE in reducing stress throughout our week.
Sunday Daily Rituals:
Planning out my week in my Bullet Journal, there is something about putting pen to paper that is calming (this is a restorative practice of self-care)
Meal Planning and Grocery Shopping – Sunday mornings I get to go grocery shopping, alone! I then do a huge fridge cleanout, which reduces the biological stress of clutter for me. Being organized will help reduce my stress throughout the week.
Baking Muffins – this is a restorative practice I do with my children. Baking with them is an activity of collaborative care that also fills their desire for connection. It's also another way to be proactive in reducing stress as we navigate the week.
Family Walk in Nature – I've had to really learn through this pandemic to include my children in my 'self-care rituals. Even though I crave solitude and quiet, I know that hiking in the woods is a proactive strategy that will reduce my stress throughout the week, it's also proactive for their mental health and well-being.
30 Minute Power Hour – We blast the music and we go from room to room, together, doing a quick tidy of each room. Music is a way to up-regulate my entire family and gives us a boost of endorphins. Clutter is a major Biological Stressor for me. Clutter drives me crazy and instantly dysregulates me. Starting the week with a calm and cozy home gives me energy and allows me to be more resilient throughout the week.
Painting – I love to sit down with my daughter with our water paints. Painting is a great way to practice mindfulness and just let the creativity flow. It's a restorative practice for both of us!
What are your Restorative Practices?
What is one small step you can take today to create a smoother flow for today, tomorrow, this week? This can be anything, but something that is moving you and your family in the direction of well-being with focus, ease and clarity.
What are some strategies, routines, rituals you find restorative?
Are they always restorative or only sometimes?
Are there things that are never restorative for you?
We all respond to stress in different ways, and we all have different tools, strategies and routines that help us maintain homeostasis.
Don't forget that your mental health always changes due to various life events and sometimes our strategies that have always worked, don't. It's important to practice self-awareness and ask our body and brain – what do I need at this moment that will either up-regulate or down-regulate me?
There are many resources available for free over the internet, better yet, take the courage to be 'awkward, brave and kind" and talk to a friend or colleague about how you are feeling. Being vulnerable and sharing how you feel is one of the best ways to learn, connect and grow. At the same time, we as a community should reach out to each other, support each other, and remind each other to take care of themselves, not just physically, but also mentally.